Erotic Photography by Alex Sargeant
Explicit Images of Imagination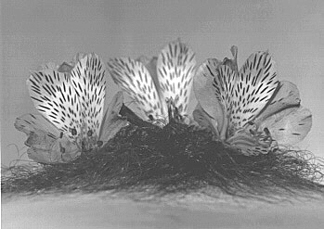 Bush Full of Butterflies

Alex Sargeant has been a photographer since age seven. As an artist, Alex is concerned with exploring and expanding our cultural concepts of eroticism. His goal is to create images that challenge the viewer's assumptions and expectations about erotica.
The erotica we commonly see in our culture is frequently demeaning to women and minorities. Alex has chosen to create images that defy stereotypes and his work contributes to the creation of a new cultural vocabulary of erotic imagery.
Alex's photographs are created with a 6x7 cm medium format camera on chromogenic film. He hand processes the film to his own specifications. Alex's prints are hand printed and archivally processed for maximum image quality and stability. Alex has recently begun experimenting with digital imaging, video, and sound. Alex's digital images are printed on a state-of-the-art dye sublimation printer.
Just Introduced: All of Alex's images from the website on one CD-Rom. Over 100 erotic art images for Only $29.95! Email Alex today to order: alexs@erotica-art-gallery.com.
| | | |
| --- | --- | --- |
| 11x14 and 8x10 Prints | Fine Art T-Shirt | Erotic Postcards |
In addition to 11x14 and 8x10 fine art prints, Alex's photographs are now available as erotic postcards and printed on high-quality cotton t-shirts. Email Alex today to order: alexs@erotica-art-gallery.com.
Alex also creates personal nude or erotic portraits for individual clients on request. Link here to see some examples. Please contact him at alexs@erotica-art-gallery.com for more information about personal erotic portraits.
---
All of the material in this website is © 1997-2000 Alex Sargeant. All rights are reserved. Do not duplicate any of this material without permission or you will be in big trouble.